I'm not sure if I want you to read this book or not. I mean, I completely loved The Best Medicine. I've read it twice already and it has earned a paperback place of honor on my keeper shelf. I'd even consider myself a newly-minted perma-fan of Tracy Brogan. But if I recommend this book to you, I will have to share Tyler, and I don't want to do that because he's my book boyfriend.
Publisher: Montlake Romance
Genre: Contemporary Romance
Rating:
[
[
[
[
[
(5 out of 5 hearts!)
Everyone in Bell Harbor thinks career-minded plastic surgeon Evelyn Rhoades needs a husband. Everyone, that is, except for Evelyn…sort of. Even if she did want a husband (which she doesn't…most of the time), she'd never let something as intangible as fate determine who she marries. No, if she's going to find someone to spend her life with, she'll do it scientifically: with a carefully crafted list of criteria and an Internet dating site.
But when intoxicated, law-breaking Tyler Connelly crashes into her life by way of a stolen Jet Ski, unruly emotions defy common sense. Sure, he's sexy, charming, and determined to win Evelyn's affection, but all evidence points to him being the worst possible choice. He's too young for her. Too irresponsible. Too underemployed. And, oh yeah, he's her patient.
But Tyler knows firsthand how the best-laid plans can crumble under the weight of destiny. Now all he needs to do is to teach Evelyn that, in matters of the heart, love often supersedes logic.
This is the first Tracy Brogan novel I've ever read and I can honestly say I haven't felt this way about an author since Emily Hemmer. Okay, that sounded creepy. Not a stalker, ladies, I promise! I'm just so excited to have found a book that can snag me emotionally while making me laugh out loud. The Best Medicine is seriously a must-read if you're a fan of humorous contemporary romances, for three reasons: it's written with a skewed, laugh out loud sense of humor, there's a realistic and quirky heroine, and the hero is will make you drool. Like, a lot.
Don't believe me? Let me present some evidence:
Skewed Sense of Humor (Exibit A)
I could give you so many examples. Divorced parents that send each other Gorilla Grams and pick up the other's dry-cleaning, only to drop it off at the Salvation Army. Friends that drop Portuguese phrases like foda pena in daily conversation. Blind dates who think testicular implants are going to be the next big thing (and they're willing to let you in on the ground floor). But, in my opinion, this opening sentence says it all:
"Birthday parties, in my opinion, are a lot like pelvic exams--a little uncomfortable, a little awkward, a little too personal, but an unavoidable yearly nuisance--like a pap smear, only with presents."
Realistic and Quirky Heroine (Exibit B)
Evie is great. She's skeptical of anything smacking of true love, after the humorously volatile example her parents set for her (see above), and she's afraid to have children because she doesn't know how to entertain them. Plus, she never has food in her apartment. Kids need to eat. And when she finally decides that her biological clock has been ticking long enough and she should cave to the pressure of the close-knit Bell Harbor community, where life is like a Viagra commercial followed by a Toys 'R' Us advertisement (oh yeah, Tracy is great with comparisons), she makes a list of what she wants in a future husband. A weighted list with things on it like "civic awareness."
Drool-Worthy Hero (Exibit C)
Tyler. Connelly. Don't tell my husband, but boy-oh-boy did this man make me drool. If I was single and he was, well, real, I'd give Evie a run for her money. He's hot, funny, works harder than three normal men put together and has a protective streak a mile wide. A real-life knight in shining armor who is not afraid to buy tampons. Lots of tampons. He might not meet the requirements on Evie's list, but I'd take him with a quickness. I mean, if I weren't married. And if he was real.
I can't stress this enough: buy this book. (Well, pre-order this book. It goes on sale May 13.) Read this book. Love this book. Really, that about sums it up. I'm just super glad I spontaneously bought Brogan's Highland Surrender at my MMRWA retreat a few weeks ago. I can't wait to see what she does with historical romance.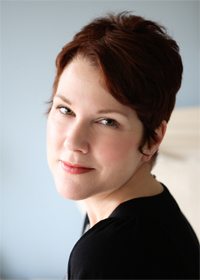 Tracy Brogan is an award-winning, bestselling author of both contemporary and historical romance. She was a Romance Writers of America® RITA Finalist for Best First Book (Crazy Little Thing), and a two-time Golden Heart Finalist. Her latest titles include Hold on My Heart and Highland Surrender. She resides in Michigan with her husband, their children, and their overly indulged dogs.
Connect with Tracy Brogan:
Disclaimer: I received a free advance review copy of
The Best Medicine from Tracy Brogan, in exchange for an honest and unbiased review.